1. Fabric. High quality shirts are made of genuine 2-ply (2×2) or even 3-ply fabrics woven of extra-long staple cotton: Sea Island, Pima / Supima, Egyptian (especially Giza 45 or Giza 87). Linen fabrics are sometimes excellent too. It's great if fabric complies with Oeko-Tex Standard 100, and it's very good if it is double mercerised. Avoid non-iron fabrics (except Oeko-Tex certified ones). Besides, check the name of the weaver: for example, Alumo, Grandi & Rubinelli, Bonfanti, SIC Tess, Thomas Mason, Riva, Albini, Testa, David & John Anderson produce very good shirtings. Monti fabrics are sometimes very good too.
Some people strive for shirts which are made of fabrics with high yarn number (200s, 240s, even 300s). Remember that the quality of such fabrics varies greatly! For example, Alexander Kabbaz says that a shirt made of 170s fabric 'A' can pass 200 washes, while a shirt made of 170s fabric 'B' becomes a trash after 25 washes. If you're seeking a durable shirting, it would be better to choose a genuine 2-ply (2×2) or 3-ply fabric with yarn number 170s or less (100s can be a great choice) – and it should be woven of extra long staple cotton by one of the best mills.
2-ply, Egyptian cotton.
2. Side seams of the best shirts feature single-needle stitching, so you will see only one row of stitches outside and two rows of stitches inside the shirt (or vice versa). Single-needle seams are stronger and more durable than double-needle (twin-needle) ones; besides, they often look more accurate and elegant. Check the stitch density: 4 or less stitches per 1 cm. = bad, 5-5,5 = OK, 6-7 = good, 8 or more = great. Read this article to learn more about the stitch density and note that the number of stitches per inch varies depending on the part of the shirt. For example, side seams of high quality shirts can feature 7-8 stitches per 1 cm., collars and cuffs – 9-12 stitches per 1 cm. (or sometimes even more – up to 14).
Single-needle stitching, 7-8 stitches per 1 cm.
Double-needle stitching, 5 stitches per 1 cm.
3. Buttons. The highest quality shirts always have buttons made of natural materials – usually mother-of-pearl (MOP). The best buttons have flawless reverse sides. Informal shirts may have horn and corozo buttons. Cheaper buttons are made of troca or – much more often – plastic. Ideally, buttons should be shanked; shanks can be created by hand or by a special Ascolite machine. The top button should be a bit smaller than other buttons.
Mother-of-pearl button.
Button shank.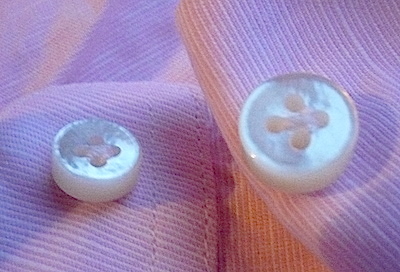 Small and large buttons.
4. Gussets are not necessary, but they're usually considered as a sign of high quality shirts. Learn more about them here. Some producers place travetti (handsewn bar tacks) instead of gussets or combine travetti with gussets.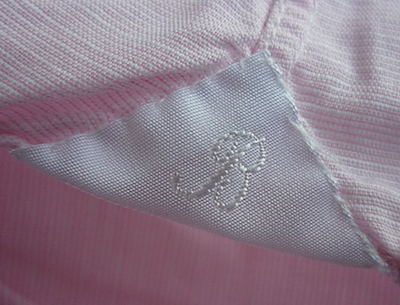 Hand-sewn gusset.
5. A split yoke can provide additional comfort / freedom of movement, if we're talking about extra slim shirts (and if fabric is cut on the bias). Besides, the split yoke can be useful on bespoke shirts, and some people simply like its look (especially on striped shirts). Read more about the split yoke here.
Split yoke (cut NOT on the bias).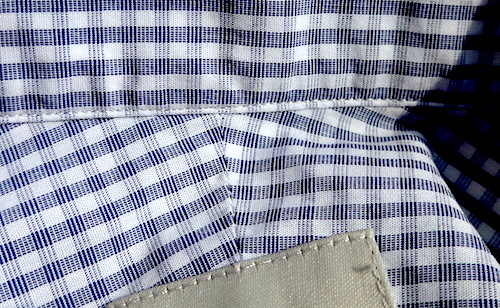 Split yoke (cut on the bias).
6. Pattern matching. Ideally, patterns should be matched in several areas (if possible): sleeve – yoke – sleeve, sleeve – sleeve placket, pocket, split yoke, shirt fronts (and front placket).
Pattern matching (sleeve – yoke).
7. When looking at armpit areas of the highest quality shirts, you will probably notice that their sleeve seams do not match with the side seams. That's because the sleeves were set and sewn on at the end of the manufacturing process. It provides a higher level of comfort and the best fit. If these seams do match with each other, it doesn't mean that the shirt is a low-end one… it just means that it is not the best one.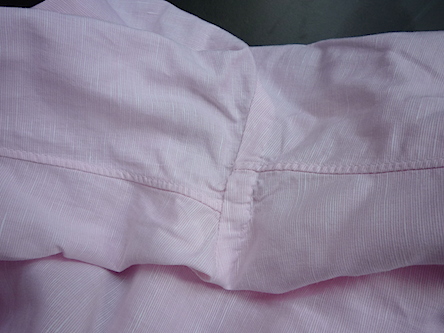 Sleeves are sewn on at the end of the manufacturing process.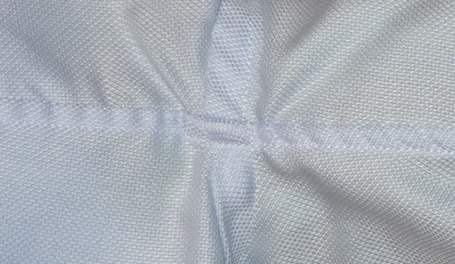 Sleeves were sewn on as usual.
8. Hand-stitching is not necessary. Some people say it makes shirts more comfortable and provides a better fit, but a shirt without hand-stitching can fit you very well – and it can be very comfortable. Anyway, handsewn buttons and buttonholes can look very nice. Read more about hand-stitching here.
Hand-sewn armhole.
9. Collar construction. Some men prefer non-fused collars, while others think that fused collars are a better option. It's a matter of taste, because nowadays fused collars can be durable and reliable (of course, they should be properly constructed). Learn more about collar constructions here.
Fused collar.
10. Removable collar stays help collars retain their shape. However, some producers don't make collar stays removable. In most cases, it's a sign of a very average shirt, but several exceptions exist (for example, most Eton shirts don't feature removable collar stays).
Removable collar stays.
11. High quality shirts feature two or more pleats above the cuffs.
Small pleats above the cuff.