A shirt yoke is a panel (or panels) of fabric located behind the collar. It can consist of two, three or four pieces of fabric. Most shirts feature 2-piece yoke (though it's sometimes called 'a single piece yoke'). Besides, you can easily find shirts with 4-piece yokes two; in this case you will see 2 pieces of fabric inside the shirt, and 2 pieces of fabrics outside (yes, any yoke actually consists of 2 layers – inner ('bottom') and outer ('top') ones). Fabrics can be cut at an angle / on the bias…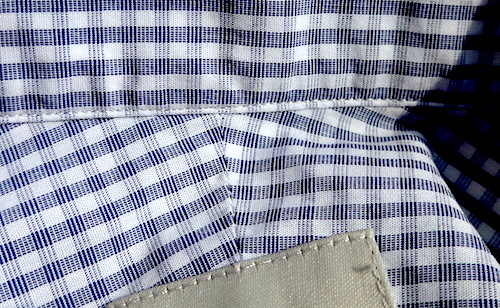 or not on the bias:
Why is it important? If a split yoke was cut on the bias (i.e. diagonally / at an angle), then it provides a bit more comfort (and freedom of movement) due to the fact that woven cotton fabrics stretch better if you stretch them diagonally. Oscar Udeshi says: «one would have to cut the top and bottom yoke both on the "bias" to have the "spring" <…> If you only cut the top on the bias, but not on the bottom, you haven't really achieved anything. Thus we cut our top and bottom yoke on the same true bias of 45 degrees as opposed to the more usual top yoke cut at 60 degrees. Thus our shirts have a spring at the back, as we cut our shirts, at least our bespoke ones pretty trim, that is a benefit. If you are cutting a full cut shirt, so generous fit, cutting yokes on the bias doesn't really add anything» (here).
Is the split yoke essential for a high quality shirt? Some people claim – yes, but others say that it can be important only if we are talking about bespoke shirts, because a split yoke can help to compensate some unevenness of client's shoulders. However, some shirtmakers think this uneveness can be taken into account even with a non-split yoke…. but Alexander Kabbaz has explained here why it does make sense to go with a split yoke (in case of bespoke shirts).
In case of ready-to-wear shirts a split yoke is mainly decorative (some people like the look of a split yoke on checked or striped shirts when checks / stripes meet at an angle in the middle of the yoke). Moreover, as stated above, when cut on the bias, a split yoke can provide additional comfort, but only a few people notice the difference. Besides, it requires more time to produce a shirt with a split yoke (with all other things being equal), but it must be noted that average quality shirts can feature split yokes, so if you see a split yoke, it does not mean that the shirt is great. Moreover, as Alexander Kabbaz says, some RTW shirtmakers can use split yokes because it helps to save a good amount of fabric.
Some brands that offer shirts with split yokes: Alexander Kabbaz, Bagutta (not always), Berg & Berg, Budd, Charles Tyrwhitt (not always), Cordings, Crombie, Drake's (not always), Ede & Ravenscroft, Emma Willis, Eton (DnA line), Harvie & Hudson, Hawes & Curtis, Hilditch & Key, Kingsman, Marks & Spencer (only Sartorial, Luxury and Savile Row Inspired lines), New & Lingwood, Polo Ralph Lauren, Ralph Lauren Purple Label (sometimes), Thomas Pink (only Imperial, Classic and Prestige lines), T.M.Lewin, Turnbull & Asser, Udeshi.