Hardy Amies is a British menswear label, which was established by Hardy Amies in 1946. Nowadays it belongs to Fung Capital company. Hardy Amies shirts are produced in Romania. They feature triangular gussets, single-needle stitching (about 7 stitches per 1 cm.), split yokes (cut on the bias), thin troca buttons (thickness – 1.5-1.8 mm., defects on reverse side). Buttons are shanked. Sometimes buttons are made of corozo. Pattern matching is very average (sometimes bad). There is no hand-stitching. Sleeves are sewn on as usual. The brand uses 100% cotton fabrics (above average, but nothing special).
Hardy Amies shirts are offered in solid colours, stripes and checks. Shades and colours: blue, grey, white, camel, navy, black, cream. Weaves: poplin, twill, denim, end-on-end / chambray, seersucker, jersey, pique, oxford. Barrel cuffs, French cuffs (very rarely). Collars are fused, there are removable collar stays. Collar shapes: button-down, semi-spread, camp. Sizes: 14.5 – 17.5 in. (= 37 – 44.5 cm) or S – XL (informal shirts). Slim fit (moderately slim – Brinsley; very slim – Heddon).
You can purchase Hardy Amies shirts at HardyAmies.com, Moss.co.uk, DavidJones.com.au. Prices start at 75 GBP (incl. VAT). These shirts are available on sales twice a year (discounts up to 50%).
Fused collar and troca button.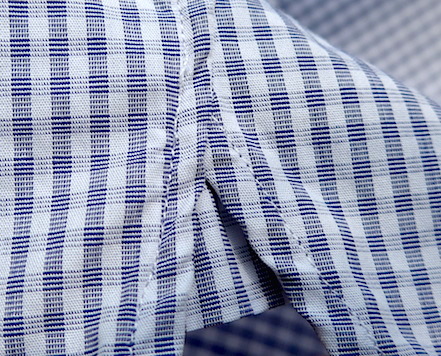 Gusset and side seam.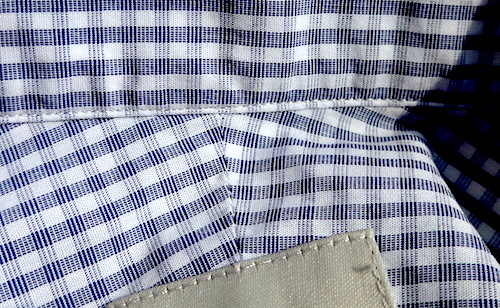 Split yoke.