Shirtmakers use buttons which are made of plastic (this is the cheapest and the most popular option), corozo, horn, troca and mother-of-pearl (MOP). Troca buttons are carved from Trochus shells, while genuine mother-of-pearl buttons are carved from Pinctada shells (Oyster shells). Troca is cheaper than MOP, it feels cold to skin (like true MOP), but its luster is different, and troca doesn't have that 'rainbow' effect of true mother-of-pearl. Some brands and people call troca 'mother-of-pearl', but it's not correct.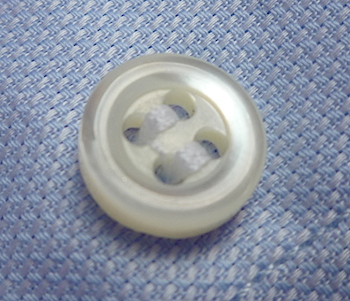 Bagutta shirt. Troca buttons.
Besides, troca buttons are usually thin (1,5-3 mm.). Beware of shirts and other garments with 1,5 mm. troca buttons, because they're fragile and can breake during washing or laundering.
How to tell if a button is made of MOP or troca, not plastic? Touch it with your lips or face: MOP and troca buttons feel cold, while plastic ones don't.

How to tell if a button is made of true MOP, not troca? First, look for a rainbow effect. Second, take a look at the reverse side of the button. If there are no colorful spots, then it's made of geniuine MOP. If there're some spots, it's probably made of troca, but it also can be made of MOP. Third, look at the thickness of the button. 4 or 5 mm. buttons are always made of MOP, while 1.5 mm. buttons are usually made of troca. 2-3 mm. buttons can be made of MOP or troca.
Here are some brands that use troca buttons: Bagutta, Cotton Experts, Glanshirt, Harvie & Hudson, Pakeman, Thomas Pink (only for their 200s range; all other shirts are equipped with plastic buttons), T.M.Lewin (very rarely; they usually use plastic buttons).