Top quality shirts always feature single-needle stitching. Single-needle seams can look very clean, neat and accurate. Moreover, they're strong and durable, but the use of this technique increases production costs. It's very easy to recognise single-needle side seams: you'll see only one row of stitches in the outer side of the shirt and two rows of stitches inside the shirt. The distance between these rows is very small (in the best cases – only 2-2.5 mm).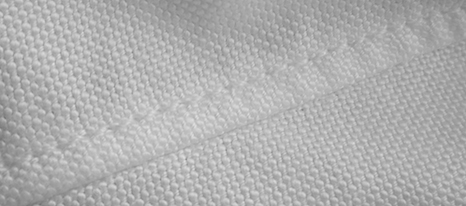 Single-needle stitching.
However, some shirts (for instance, Turnbull & Asser ones) may feature single-needle stitching with two rows of stitches outside and only one row inside.



When inspecting a shirt with double-needle (or twin-needle) stitching you will notice two rows of stitches inside and two rows outside; the distance between these rows is usually 4-6 mm. It takes significantly less time and effort to stitch side seams in this way, that's why most shirts feature twin-needle side seams.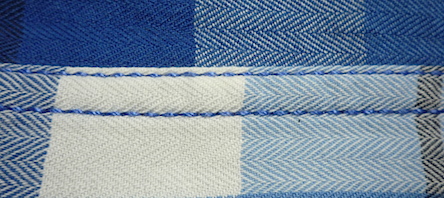 Double-needle stitching.
The fabric between these rows of stitches can wrinkle heavily after washing, but I must say that sometimes single-needle stitching doesn't prevent this problem. If you want to produce a top quality shirt, the single-needle seams must be sewn in a proper way and with the minimal and constant distance between the rows of stitches. Besides, the look of the seams depends on fabrics and ironing too. Single-needle side seams don't necessarily look better than twin-needle ones.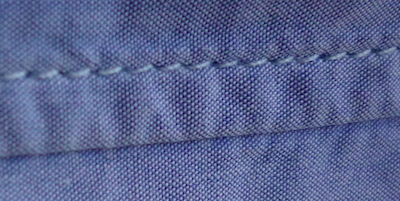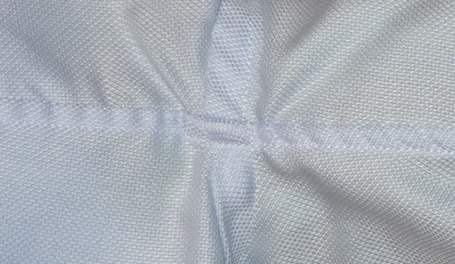 Moreover, twin-needle stitching sometimes can look better than inferior single-needle stitching (if the distance between the rows of stitches is very small, and the stitch density is high). Here is an example (Turnbull & Asser boxers):

Very neat double-needle stitching.
It must be added that some producers (for example, Olymp) stitch the side seams in another way. The seams of their shirts aren't flat, and you can't notice any rows of stitching outside, but if you look inside the shirt, you'll see lots of looped stitches sewn by an overlock machine. T-shirts and polo shirts are very often stitched in this way; only the best polo shirts feature single-needle stitching.
Some brands that offer shirts with single-needle stitched seams: Alessandro Gherardi, Andrea Campagna, Anna Matuozzo, Bagutta, Barba, Belvest, Berg & Berg, Brioni, Brooks Brothers (except Red Fleece line), Budd, Canali (only Exclusive line), Caruso, Cesare Attolini, Charvet, Corneliani, Cotton Experts, Crombie, Dege & Skinner, Drake's, Emanuel Berg, Emma Willis, Errico Formicola, Finamore, Fray, G.Inglese, Glanshirt (by Slowear), Guglielminotti, Hardy Amies, Hilditch & Key, Isaia, Kabbaz-Kelly, Kingsman, Kiton, Lanvin, Lino Sentiero, Luciano Barbera, Luciano Lombardi, Luigi Borrelli, Maria Santangelo, Mattabisch, New & Lingwood, Pino Borriello, Rubinacci, Sartoria Partenopea, Stanbridge, Suitsupply (Red line only), Tom Ford, Truzzi, Turnbull & Asser, Van Laack (probably not always, but very often), Vincenzo di Ruggiero.
Some brands which offer polo shirts with single-needle stitched seams: Della Ciana, G.Inglese, Luca Avitabile.
I know only one brand of boxer shorts with single-needle seams – The Perfect Son.