1. Fabric. The highest quality boxers are made of 2-ply extra-long staple cotton fabrics. Some brands use Irish linen fabrics as well. Long staple cotton is better than 'unknown staple' cotton, but extra-long staple one is the best option. The most known varieties of extra-long staple cotton are Sea Island, Egyptian Giza 45 and Giza 87, Pima / Supima. Silk boxers are luxurious and very comfortable, but they are very expensive, and you need to wash them by hand.
This fabric is woven from Egyptian cotton.
It must be added that high quality non-woven / jersey boxers (boxer briefs) are sometimes made of micromodal or micromodal Air. The best woven boxers are made of fabrics produced by the best mills in the world – for example, Alumo, Albini, David & John Anderson, Thomas Mason. It's very good if fabrics comply with OekoTex Standard 100.
These boxers are made of Alumo fabric.
2. Buttons of high quality boxers should be made of genuine mother-of-pearl. Some brands use less expensive troca buttons, but plastic buttons are the most common option even if we're talking about quite expensive garments. You can learn more about mother-of-pearl buttons here. Nota bene: sometimes high quality boxers don't have any buttons, there's nothing wrong with that.
Mother-of-pearl.
Another important detail: it's very good if buttons are shanked. Besides, the best mother-of-pearl buttons have no flaws / spots on the reverse side.
3. Waistband. This is a difficult question, because tastes differ. I would say that channel (or tunnel) waistbands are the most comfortable ones. Perhaps your opinion will differ. Anyway, you can find more info about boxer shorts waitsbands here.

This is a channel waitsband.
4. The rear part of boxers can be sewn in 4 different ways. Read this article to learn more about them. It's generally considered that there should not be a center seam on the rear part of high quality boxers.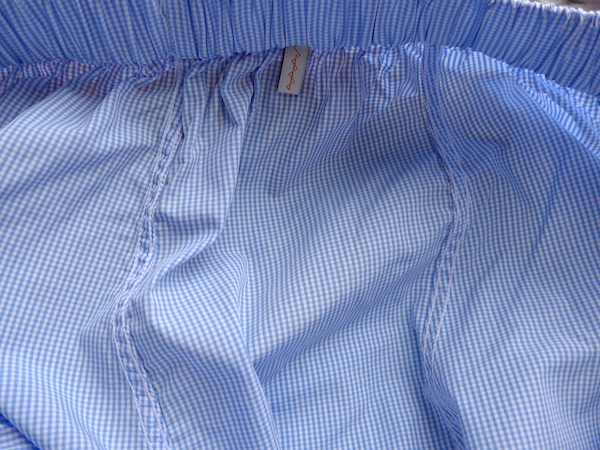 5. Seams. Look at the stitch density: it's good if seams feature 6 or more stitches per 1 cm. (examples: Emma Willis, Turnbull & Asser, Berg & Berg). Moreover, you can find boxers with very high stitch density (about 9 stitches per 1 cm.), but they're very expensive. Seams on most high quality boxers are double-needle stitched; I know only one company that produces boxers which feature single-needle stitching – it's The Perfect Son. However, the level of double needle-stitching varies; for example, Turnbull & Asser boxers feature neater seams than Sunspel ones.
It must be added that some boxers can feature overlock seams (i.e. not flat ones). They're not as comfortable as double-needle and single-needle ones (though some people don't notice the difference).