Mother-of-pearl (MOP) buttons are carved from oyster shells (Pinctada shells). They have a nice iridescent luster, so at certain angles you can notice a rainbow. However, some brands use the term 'mother-of-pearl' ('MOP') for troca (conch / Trochus shells), and it's incorrect. You can learn more about troca buttons here; they do not have that rainbow effect and they usually look not as nice as mother-of-pearl buttons. Troca is more expensive than plastic; genuine MOP is more expensive than troca.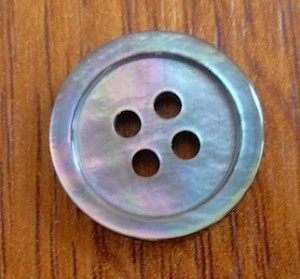 Mother-of-pearl buttons.
If a button feels cold to your lips or face, then it's made of MOP or troca. If it has a rainbow effect, then it's most likely MOP. If it has some colourful spots on its reverse side, then it may be made of troca shells or lower quality MOP (in this case it was carved from a thinner part of a shell). The best mother-of-pearl buttons have a flawless reverse side, because they're carved from the thickest (and the most expensive) parts of shells.
When inspecting a shirt (or another garment), pay attention to the thickness of its buttons. 4 or 5 mm. buttons are almost always made of MOP, and they're very strong and durable, but some people think that they have unbalanced proportions (i.e. they're too thick if we talk about shirts). 1.5 mm. buttons are usually made of troca and recommended to avoid. 2 and 3 mm. buttons can be made of MOP or troca. I would say that 3-3.5 mm. MOP buttons are the best choice.
This is a moderately thick MOP button (3 mm).
It must be noted that mother-of-pearl buttons can be dyed in virtually any colour, so they can be pink, blue, etc (of course, only translucent dyes are used to get this coloured finish). Another nota bene: some brands (Eton, for example) use buttons made of crushed and then pulverised mother-of-pearl. In my opinion, they're not as nice as classic mother-of-pearl buttons, but they're certainly better than cheap plastic buttons.
MOP buttons are used for shirts, boxers, sportcoats, suits, polo shirts, knitwear and some other garments. Besides, you can find mother-of-pearl collar stays, they're expensive and beautiful, but there's no any practical sense to pay so much money for them. Mother-of-pearl cufflinks are also available on the market.
Some brands which offer shirts and other garments with genuine MOP buttons: Alessandro Gherardi, Andrea Campagna, Anna Matuozzo, Barba, Belvest, Berg&Berg (not always), Bloomboxer, Brioni, Brooks Brothers (not always), Budd, Canali, Caruso, Cesare Attolini, Charvet, Corneliani, Crombie, Dege & Skinner, Della Ciana, Dolce & Gabbana (not always), Drake's, Emma Willis, Errico Formicola, Finamore, Fray, G.Inglese, Giorgio Armani, Gran Sasso, Hilditch & Key, Isaia, John Smedley (not always), Kabbaz-Kelly, Kingsman, Kiton, Knize (not always), Lanvin, Lino Sentiero, Luciano Barbera, Luciano Lombardi, Luigi Borrelli, Malo, Maria Santangelo, Mattabisch, Pal Zileri (only suits and sportcoats), Pino Borriello, Ralph Lauren Purple Label, Richard James, Rubinacci, Sartoria Castangia, Sartoria Partenopea, Suitsupply (Red line only), Svevo, Thom Browne, Tom Ford, Truzzi, Turnbull & Asser, Van Laack (probably not always), Vincenzo di Ruggiero.
Some brands that sell mother-of-pearl collar stays: Budd, Dunhill, Hanger Project, Hilditch & Key, Pakeman, T.M.Lewin, Turnbull & Asser.
The best-known producer of mother-of-pearl buttons is Gritti Group Spa (Italy).