Buttons can be sewn with a thread shank or without it. If buttons are sewn with a thread shank, the garment will be easier to button, there will be no wrinkles around buttons (when the garment is buttoned), and buttons won't be lost, because such a shank prevents them from falling off.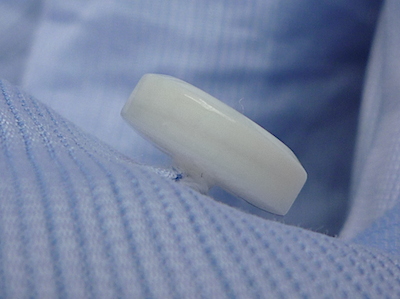 This is a shanked button (the shank was sewn by hand).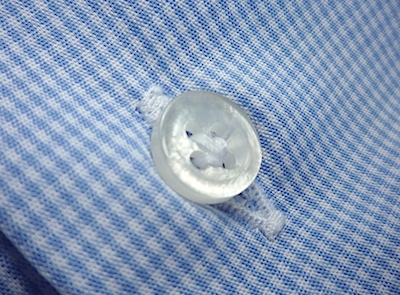 This button was sewn without a shank; you can see wrinkles around it (when it's buttoned).
The thread shank can be sewn by hand or by a special machine called Ascolite. Handsewn buttons almost always feature a shank though sometimes you may find garments with buttons which were hand-sewn with a very loose shank – and this shank doesn't secure the button properly. However, a hand-sewn thread shank can be very strong if it's made properly. Thread shanks made by Ascolite machine are always strong, but there're only a few shirt brands that use this machine.
This shank is sewn by hand, and it's too loose.
This thread shank was sewn by Ascolite machine.
I think that any truly high-end garment should feature shanked buttons. However, it's interesting that sometimes even absolutely flawless high quality mother-of-pearl buttons are sewn without thread shanks.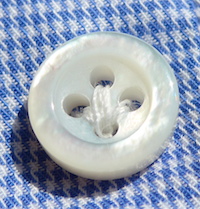 Flawless mother-of-pearl… and no shank!
Some brands which sell shirts and boxers with buttons sewn with a shank: Alessandro Gherardi, Anna Matuozzo, Barba, Belvest, Cesare Attolini, Charvet, Errico Formicola, Eton, Finamore, G.Inglese, Glanshirt, Hardy Amies, Isaia, Kingsman, Kiton, Lino Sentiero, Luciano Lombardi, Luigi Borrelli, Maria Santangelo, Mattabisch, Pino Borriello, Sartoria Partenopea, Stanbridge, Suitsupply, Tom Ford, Truzzi, Turnbull & Asser, Van Laack, Vincenzo di Ruggiero.