Removable collar stays are small inserts that help a shirt collar to maintain its shape. Cheap shirts often feature non-removable collar stays, while more expensive shirts are usually equipped with removable ones. However, it must be noted that some shirts with very soft collars sometimes don't have collar stays at all.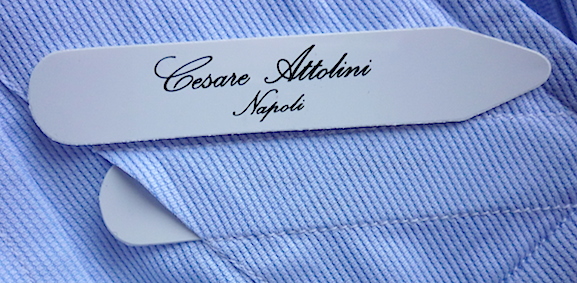 Collar stays can be made of plastic, silver, mother-of-pearl, stainless steel, bone, wood or brass. Most shirts are equipped with plastic collar stays, but you can replace them (if they're removable, of course). The most 'efficient' collar stays are more or less hard. It's recommended to take collar stays out before washing and ironing.
Brands of mother-of-pearl collar stays: Budd, Dunhill, Hanger Project, Hilditch & Key, Pakeman, T.M. Lewin, Turnbull & Asser.

Brands of bone collar stays: Abbeyhorn.