А gusset (or la mouche in Italian) is a small piece of fabric which is inserted into the place where side seams meet the shirt hem. This piece of fabric can be triangular, rectangular, etc. Sometimes it features brand embroidering. It's generally believed that gussets reinforce the weakest point of seams. Besides, some people suppose that gussets provide a greater freedom of movement. Alexander Kabbaz, however, does not agree with this point of view (source).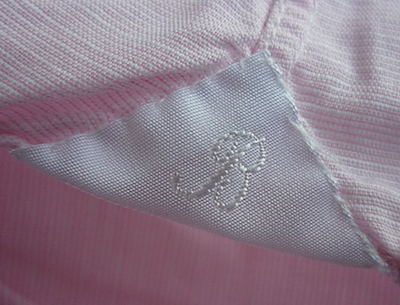 Gussets are usually considered as a sign of high quality shirt. Yes, high quality shirts usually have gussets or bar tacks in those places where side seams meet the hem. However, the presence of gussets does not indicate the high quality, it just means that the shirt is not the cheapest one. Of course, gussets slightly increase production costs, but anyway, you can produce a high quality shirt without gussets.
Some brands that offer shirts with gussets: Alessandro Gherardi, Andrea Campagna, Anna Matuozzo, Bagutta (not always), Barba, Belvest, Berg & Berg, Brioni, Budd, Canali (only Exclusive line), Cantarelli, Caruso, Cesare Attolini, Charles Tyrwhitt (probably not always), Drake's, Ede & Ravenscroft (probably not always), Emma Willis, Errico Formicola, Finamore, Fray, G.Inglese, Glanshirt (by Slowear), Guglielminotti, Hardy Amies, Hawes & Curtis, Hilditch & Key, Isaia, Kingsman, Kiton, Lacoste (probably not always), Lanvin, Lino Sentiero, Luciano Lombardi, Luigi Borrelli, Maria Santangelo, Marks & Spencer (only Autograph, Sartorial, Luxury lines), Massimo Dutti (not always), Mattabisch, New & Lingwood, Pino Borriello, Polo Ralph Lauren (probably not always), Rubinacci, Sartoria Partenopea, Stanbridge, Suitsupply (Red line only), Thomas Pink, Tom Ford, Truzzi, Turnbull & Asser, Van Laack, Vincenzo di Ruggiero.
Charvet offers shirts with bar tacks instead of gussets.