Hugo Boss is a famous German brand. It was registered in 1977 (but it must be added that the company was established in 1924). Hugo Boss shirts are usually made in Asian and Eastern European countries. They feature non-split yokes, double-needle stitching, fused collars, removable collar stays, plastic buttons without shanks. (sometimes/rarely – mother-of-pearl buttons). No gussets, no hand-stitching. Sleeves are sewn on as usual. The quality of fabrics varies; Hugo Boss uses average fabrics (sometimes cotton + polyamide blends) as well as very good quality fabrics from Albini and Monti (but rarely); sometimes 2-ply fabrics. There are 100% cotton, 100% linen, linen + cotton, cotton + polyamide + elastane shirts; besides, Hugo Boss sells Easy Iron shirts.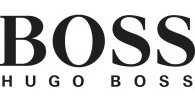 Hugo Boss offers a lot of solid colour shirts, but its range of patterned shirts is very wide too. Patterns: checks, stripes, pin dots; fancy and abstract patterns. Colours and shades: white, blue, pink, grey, green, navy, black, etc. Weaves: poplin, oxford, Royal oxford, pique. Collar styles: Kent, spread, band, wing, point, semi-spread, button-down, cutaway. Buttoned cuffs, French cuffs. Sizes: 14 – 18 in. (= 36 – 46 cm). Slim, regular, comfort, extra slim fits. Some models are available in extra long sleeves versions.
You can purchase Hugo Boss shirts at HugoBoss.com, MrPorter.com, HouseofFraser.co.uk, Asos.com, Nordstrom.com. Prices start at 59 GBP (incl. VAT). Hugo Boss shirts are available in sales several times a year (up to 50% off).