Hawes & Curtis is an English label, which was founded in 1913. Its clientele included the Duke of Windsor, Cary Grant, Frank Sinatra, Fred Astaire, Bing Crosby… but in 2002 Hawes & Curtis brand was sold to Touker Suleyman for 1 GBP because of financial difficulties. Nowadays Hawes & Curtis shirts are manufactured in Asian countries. They are made of 100% cotton fabrics – often non-iron ones; usually 2-ply 100's (but I don't know if it's 2×2 or not). These fabrics are far from excellent, but their quality matches prices of the shirts, so Hawes & Curtis shirts can be a good option if you are on a budget.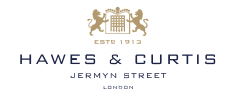 Hawes & Curtis shirts feature double-needle stitched side seams (4.5-6 stitches per 1 cm.), gussets, plastic buttons (not shanked), split yokes. No hand-stitching. Sleeves are sewn on as usual.
Hawes & Curtis shirts are offered in a wide range of classic patterns (checks: gingham, Prince of Wales, plaid, grid check, dogstooth, micro check; stripes) and solid colours. Bold and flamboyant shirts with unusual patterns are also available. Shades: pink, grey, white, light blue, blue, green, black, lilac, purple, burgundy, cream, ivory, red, yellow, etc. Weaves: poplin, twill, oxford, pique, end-on-end. Collar styles: cutaway, spread, semi-spread, button-down. Collar construction: fused (most shirts), non-fused (Weekend collection). Barrel (mitred) and French cuffs. Sizes: 14.5 – 20 in (= 37 – 50 cm). Sleeve length options: 33 – 38. Casual shirts: XS – 3XL. Fits: classic, tailored, slim, extra slim. Short and long sleeves.

You can buy Hawes & Curtis shirts at HawesandCurtis.com. Prices start at 34.5 GBP (incl. VAT). You can buy 4 shirts for 100 GBP. Sometimes there are some other discounts (up to 50% off).