Hugo Boss is a German brand registered in 1977 (but the company was founded by Hugo Boss in 1924). Hugo Boss socks are made of 100% Egyptian cotton (mercerised);  98% cotton + 2% elastane;  75-76% cotton + 23% polyamide + 1-2% elastane;  70% cotton + 30% polyamide;  58% wool + 22% polyamide + 19% cotton + 1% elastane;  60% virgin merino wool + 25% cotton + 13% polyamide + 2% elastane;  90% cotton + 5% cashmere + 5% silk;  95% cashmere + 5% polyamide. Some Higo Boss socks have hand-linked toes. Hugo Boss offers invisible, low cut, mid-calf and knee-high socks (unfortunately, most Hugo Boss socks are mid-calf). They are manufactured outside Germany (usually in Turkey, sometimes in Italy).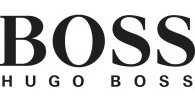 Hugo Boss socks are offered in several classic colours (black, navy, blue, white, grey, beige) and several brighter colours (red, green, orange, yellow, fuchsia, lilac, etc). Striped, argyle and polka dots socks are also available. Besides, there are several other patterns, including fancy ones; in fact, the range of Hugo Boss socks is huge. Unfortunately, Hugo Boss socks usually feature external brand logos. There are several sizes (they fit EU39 – EU 46 / UK5 – UK12).
You can buy Hugo Boss socks at MrPorter.com, SockShop.co.uk, Nordstrom.com, Houseoffraser.co.uk, Macys.com. Prices start at 8 GBP (incl. VAT, mid-calf socks) or 4 GBP (excl. VAT, no-show socks).