Hugo Boss is a German label, which was established in 1977 (however, the company itself was founded in 1924). Hugo Boss pocket squares are made of silk, cotton, silk + cotton, wool fabrics. These pocket squares are manufactured in Italy (probably not always). Their edges are usually stitched by ordinary machines (i.e. they are not rolled). The size of Hugo Boss pocket squares is quite small: about 33*33 cm. Learn here how to choose the perfect pocket square size.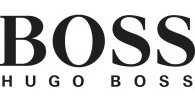 The range of colours, shades and patterns is wide. Hugo Boss offers various patterned squares (patterns: plaid, paisley, polka dots, foulard, houndstooth, 'diamonds', etc). Colours and shades: blue, navy, dark brown, red, olive, grey, orange, lilac, etc. Solid colour pocket squares are available too.
You can buy Hugo Boss pocket squares at HugoBoss.com, JohnLewis.com, Nordstrom.com, TheIconic.com.au. Prices start at 29 GBP (incl. VAT). These pocket squares are put on sales twice a year.