Sunspel is an English brand of underwear, clothing and accessories. It was established in 1860; it has been producing boxer shorts since 1947. Sunspel boxer shorts are made in Portugal and (very rarely) England. The brand usually uses 2-ply fabrics which are woven of 100% long-staple cotton (sometimes genuine Sea Island) / sometimes fabrics woven of 100% silk. Sunspel mainline boxers feature inserted back panels, double-needle stitching (4 stitches per 1 cm.), waistbands with exposed elastics and no buttons. Sunspel Heritage boxers feature rear central panels, channel waistbands with mother-of-pearl buttons; they're made in England.
Sunspel boxer shorts are offered in several sizes: XS, S, M, L, XL, XXL. The range of colours and patterns is quite wide (blue, white, light blue, pink, mint, khaki, green / solids, checks, stripes, pin-dots; floral and fancy patterns by Liberty). You can buy Sunspel boxers at Sunspel.com, EndClothing.com and MrPorter.com. The prices start from 40 EUR (incl. VAT), 30 GBP (incl. VAT) and 25 GBP (excl. VAT) respectively (Heritage line boxers – 55 EUR; Sea Island boxers – 95 EUR). Sometimes these boxers are available on sales (usually twice a year; up to 50% off).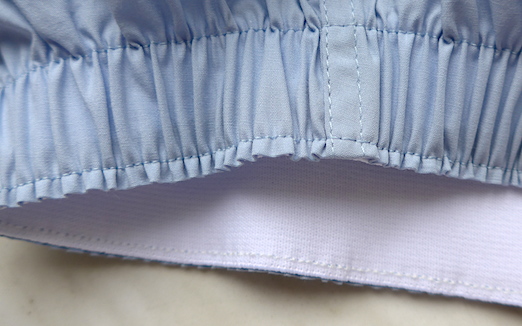 Waistband.
Double-needle stitching, 4 stitches per 1 cm.
Fragment.