1. Fabric. High quality pocket squares are made of linen, silk, cotton, wool and sometimes blends (for example, cotton + linen or wool + silk). It's great if the square is made of Irish or French linen or if the silk fabric was hand printed (in England, France or another country). Nowadays most silk fabrics are digitally printed, but the best silks are traditionally hand printed. Ideally, dyes should penetrate deeply into the silk. Check the reverse side of the pocket square: it's great if it's quite bright and not very dull.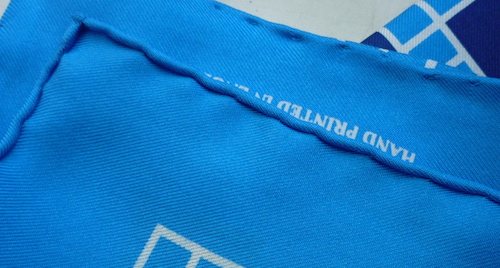 Hand printed in England.
2. Size. Avoid too small pocket squares (for instance, 28*28 cm.) as well as too large ones (for example, 45*45 cm. linen squares). The best size for a silk square is usually 40*40 cm. – 45*45 cm. Linen and wool squares should be a little smaller. Learn here how to choose the right size.
Wool pocket square (fragment).
3. Hand-rolled edges. The best pocket squares feature hand-rolled edges. Look at the quality of hand-rolling: edges should be thin and neat. Nowadays most pocket squares are machine-rolled or even sewn by an ordinary machine. If the edges are hand-rolled, you won't see lots of dense stitches. Learn more about hand-rolled and machine-rolled edges here.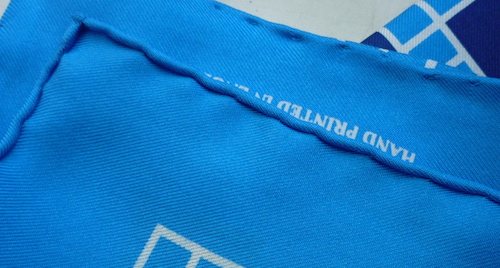 These edges were rolled by hand.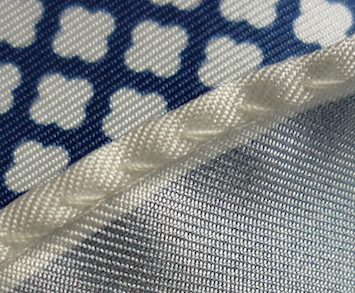 These edges were rolled by a machine.
These edges were sewn by an ordinary machine.
4. 'Made in' tag. You can find small, digitally printed and machine-rolled pocket squares with 'Made in Italy' stamp as well as very good hand-rolled pocket squares which were made in Asia. Therefore 'Made in' tag tells you almost nothing about quality… though I must admit that 'Made in France' pocket squares are usually very good (but sometimes they can be too small or too large).
Made in France.