Corgi is a Welsh brand, which offers a wide range of socks. The company was established by Rhye Jones in 1892; today it is managed by his great great grandchildren. All Corgi socks are made in Wales (the UK). Their toes are hand-linked. Corgi uses various blends: 75% cotton + 25% nylon; 63% wool + 37% nylon; 97% shetland lambswool + 3% nylon; 80% wool + 20% cotton; 60% cotton + 30% nylon + 10% cashmere; 64% cashmere 36% cotton; 100% cashmere (Himalayan one, 16 micron, spun by Todd & Duncan). Corgi socks often look informal / casual (but there are some exceptions). Most Corgi socks are mid-calf (but I must admit they're quite long); over-the-calf socks and low cut socks are available too.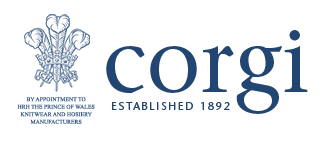 Corgi offers lots of socks in bold and flamboyant patterns as well as plain, checked and striped socks (including multicolour, wide, narrow and mid stripes). Colours and shades: blue, navy, grey, red, pink, green, cream, beige, yellow, black, purple, charcoal, khaki, orange, wine, etc. Available sizes: S, M, L, XL, XXL (they fit UK5 – UK14). You can buy Corgi socks at MrPorter.com, SockShop.co.uk, Pediwear.co.uk or CorgiSocks.co.uk. Prices start at 10 GBP (incl. VAT / low cut socks), 16 GBP (incl. VAT / mid-calf socks). Corgi socks are available on sales twice a year (up to 50% off). You can order personalised (monogrammed) socks (minimum order: 6 pairs, prices start at 19 GBP per pair).
Corgi socks. 75% cotton 25% nylon.